Product Description
A unique, tweakable 65% keyboard kit
The NIBBLE is a low-cost, high-quality ANSI+ISO 65% keyboard kit with tons of room for user customization. Inspired by keyboards like the Plaid or Discipline, the NIBBLE uses a Pro Micro, rather than a discrete microcontroller. This saves assembly time, and also reduces the build difficulty, since components like the USB connector are difficult to solder by hand. The NIBBLE has more programmable keys than a standard 65%, and allow for multiple layouts.
Customizable Macro Keys
Any of the below options can be used in place of the four programmable macro keys on the left of the keyboard. Use some, all, or none of these. It's your call.
Rotary Encoder
With a built-in switch, a rotary encoder can be customized to control audio, RGB modes, keyboard layers, video and audio editing, just to name a few.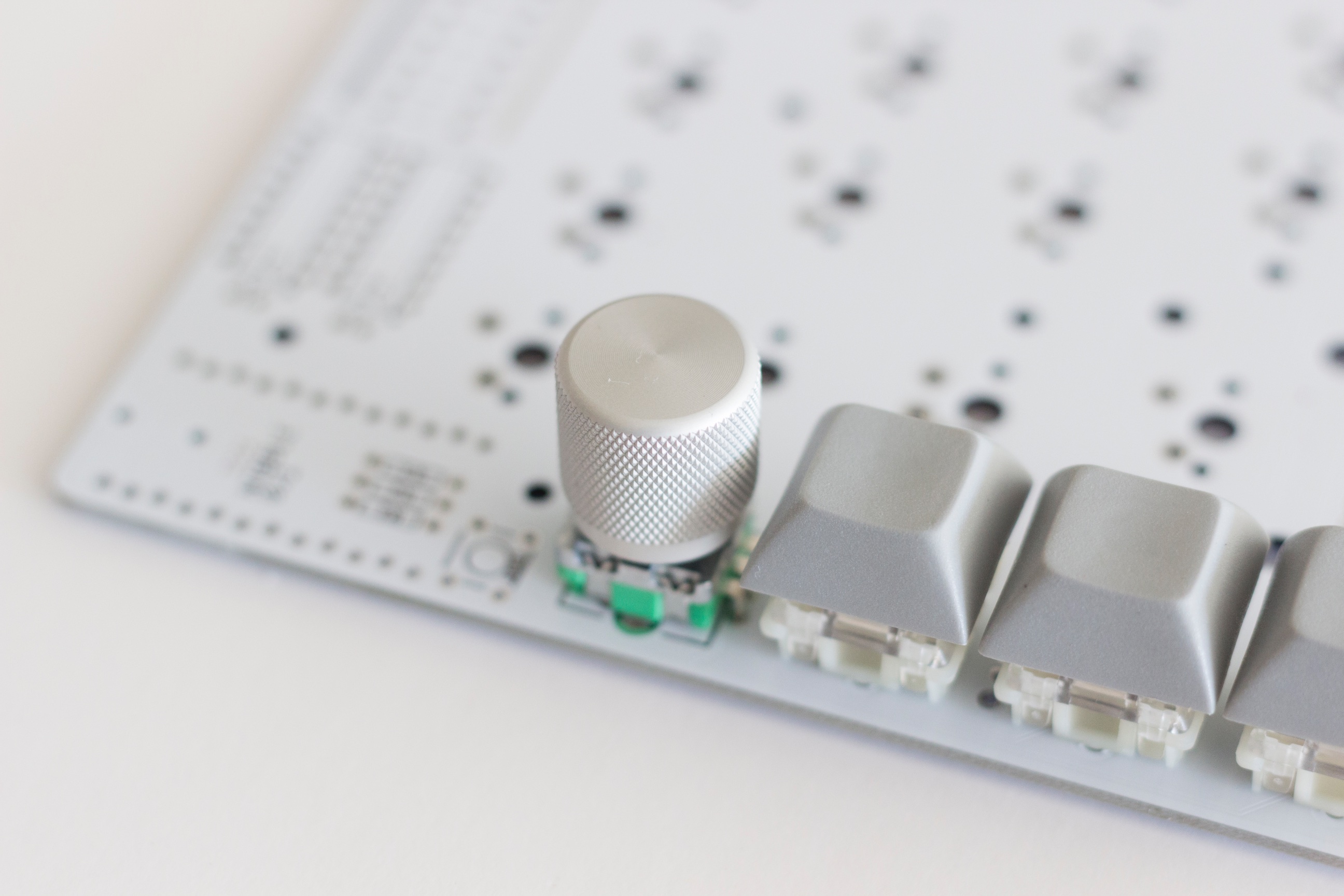 Giant RGB LED
What's better than an RGB LED? A giant RGB LED. It's a cool way to display keyboard status, and can be controlled from QMK to show caps lock, layer, whether you're muted on Discord...etc.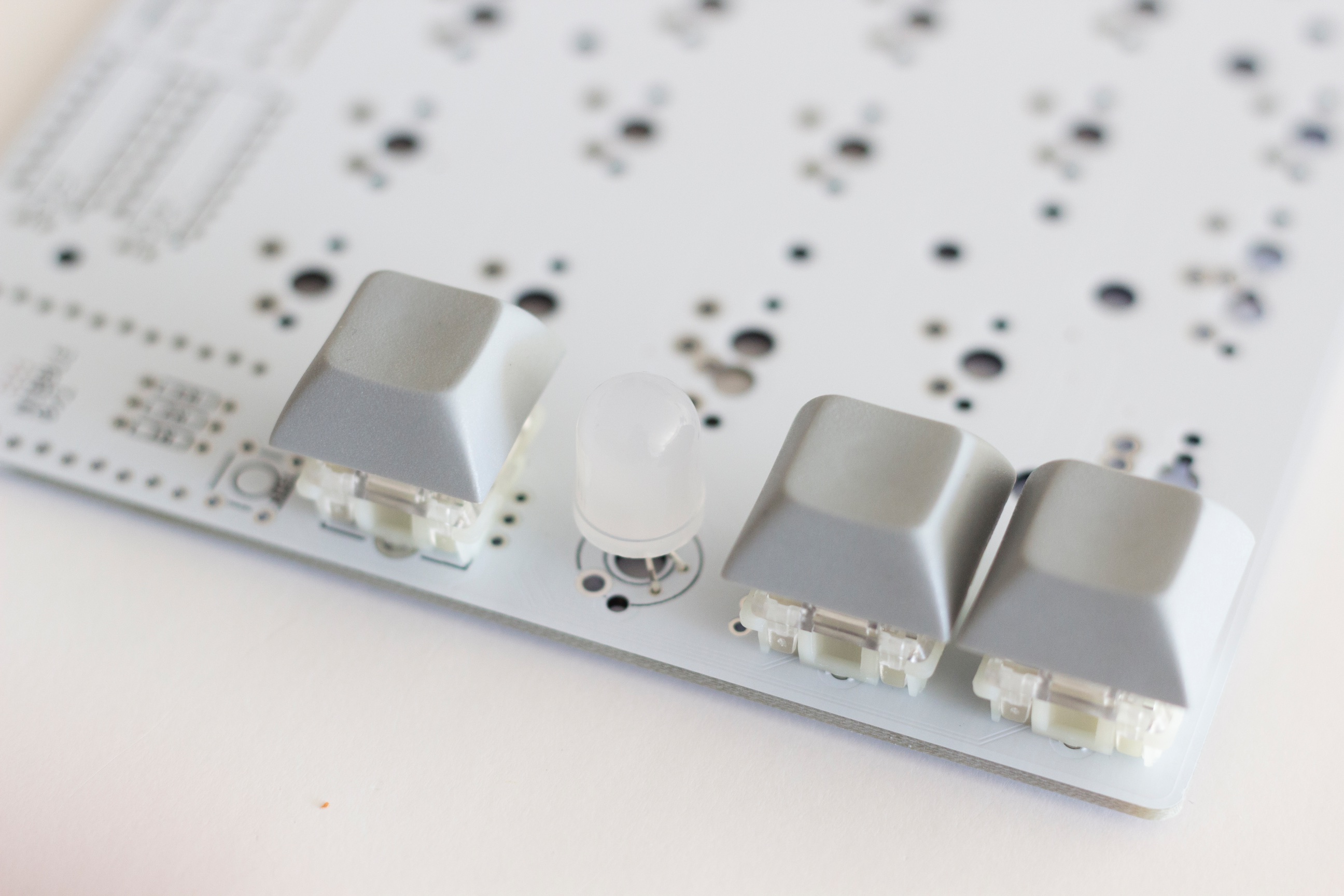 OLED Display
Giant RGB LED not enough? The NIBBLE includes an OLED header, ready to accept any widely available 0.91" SSD1306 I2C OLEDs module.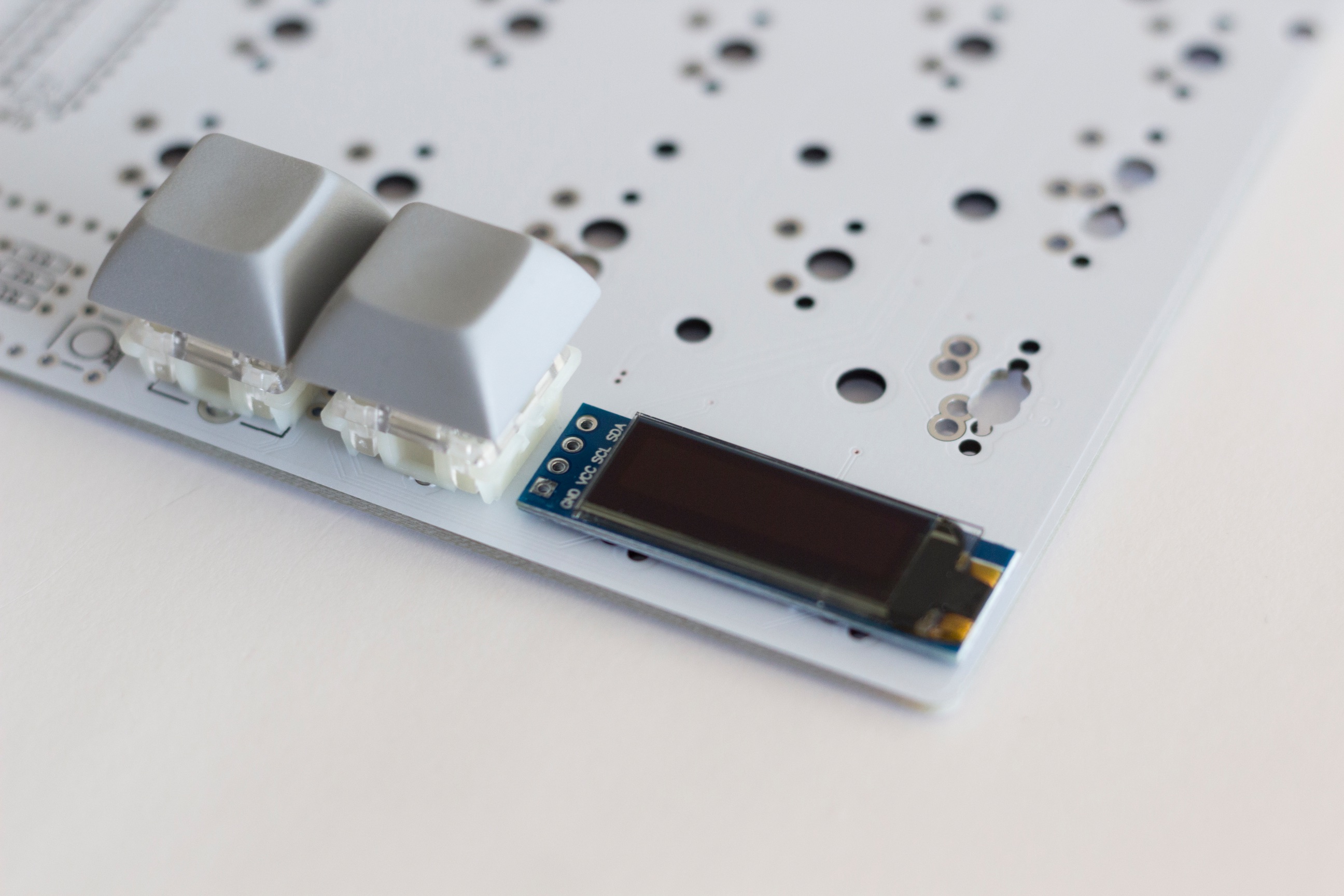 100% through hole design*
The NIBBLE utilizes a Pro Micro MCU instead of a discrete micro-controller chip. It offers the fun and aesthetic of a kit keyboard without having to worry about soldering the difficult bits like USB connectors. All required parts (diodes, caps, and ICs) are through-hole, meaning they're easy and forgiving to solder. ICs come with a socket, so you don't need to worry about cooking them during soldering.
*Optional underglow LEDs and expansion port are surface-mount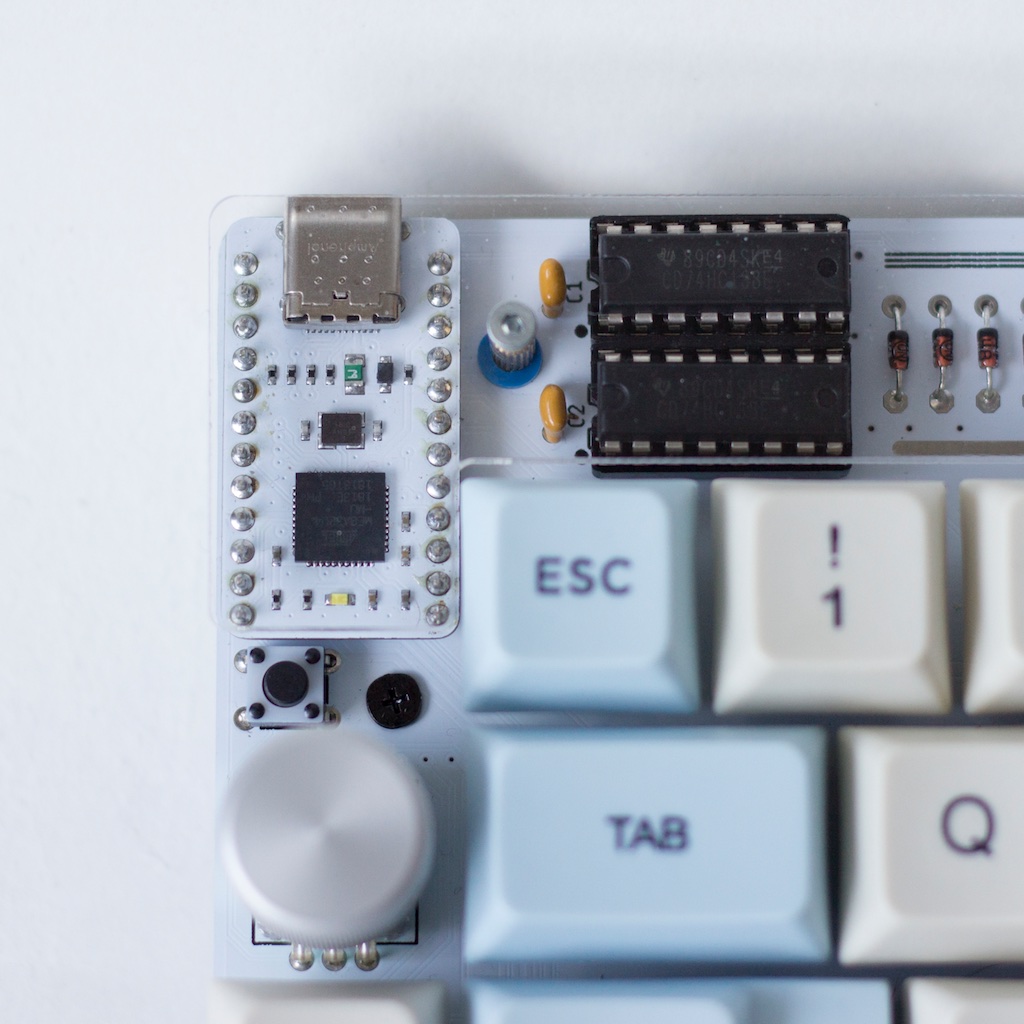 Serious configurability
The NIBBLE supports many different key configurations and layouts: ANSI/ISO, split space, stepped caps lock, and multiple different function rows. See here for the default key layout, here for ISO, and here for the function row options. Since it runs QMK firmware, it's easy to change keymaps, program macros, and customize functionality, even beyond what's been discussed here.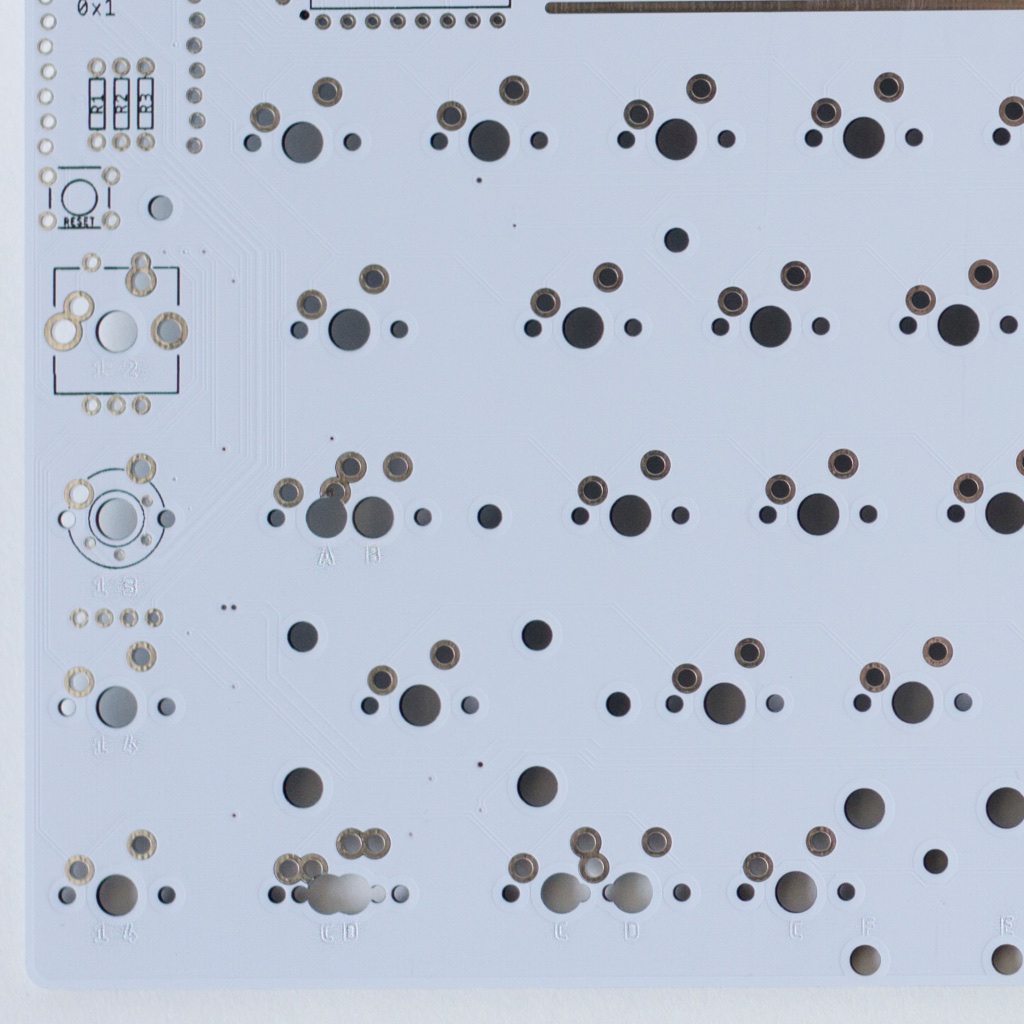 RGB underglow ready
10x optional bottom-mounted SMT LEDs shine nicely through the acrylic support material. RGB underglow is supported natively in QMK, allowing for easy programming and configuration.
Included (in the box)
Top & bottom PCBs.
top & middle acrylic supports
M2 standoffs & screws
Core electronic components:

1N4148 axial diodes, column driver ICs & sockets, 0.1μF decoupling caps, reset switch
WS2812 RGB underglow & BIG RGB LEDs
Rotary encoder & color-matched Kilo knob

Quickstart card
Not included (you'll also need)
Pro Micro Compatible MCU.
Qty. 72 PCB mount MX-compatible keyswitches & keycaps
PCB-mount stabilizers
[Optional] Mill-Max 0305 or 7305 hot-swap sockets
Tools:

A good fine-tip soldering iron
High quality thin solder
Side cutting snips for trimming leads
A fine-tip Phillips (#00 or #0) screwdriver
Take a look at the Build Guide and Parts List here:
https://github.com/nullbitsco/docs/blob/main/nibble/build_guide_en.md
FOR INTERNATIONAL CUSTOMERS ONLY - International customers (located outside of USA) will be charged a flat $39.99 USD for shipping. The shipment will be sent DDU (duties and taxes UNPAID). The customer is responsible for any locally charged duties, taxes and fees. Please reach out to us directly at support@eurekaleap.com if you have any questions.
Product Videos
Custom Field
Product Reviews