Product Description
Eliminate board connection failures on your project with this high quality breadboard.
BreadBoard-400 is a solderless (plug-in) breadboard with 400 connection tie-points (i.e. 400 wire insertion holes). It has 4 power rails. Solderless breadboards are great for building and testing new circuits because parts can be easily inserted and removed. They are completely re-usable. The BB400 has a 300 tie-point IC-circuit area plus four 25 tie-point power rails. The housing is made of white ABS plastic, with a printed legend giving numbers and letters for columns and rows. The internal contacts are phosphor bronze with a plated nickel finish. A peelable adhesive tape backing is provided for attaching it to a surface. BPS BreadBoards are Lead-Free and RoHS Compliant. Finished projects can be moved to a SB400 or SB404 Solderable PC BreadBoard to make them permanent.
Features:
400 tie points total: 300 tie-point IC-circuit area plus two 50 tie-point distribution strips providing 4 power rails.
ABS plastic body with black printed legend. Color legend on distribution strips.
Contacts are Phosphor Bronze with Plated Nickel Finish, rated for 50,000 insertions.
Rated at 36 Volts, 2 Amps.
Insertion Wire Size is 21 to 26 AWG, 0.016 to 0.028 inches diameter (0.4 to 0.7mm diameter)
Peelable adhesive tape backing provided for attaching to a surface.
Size: 3.3 x 2.1 x 0.3in (84 x 54.3 x 8.5mm).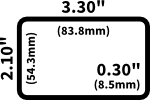 Product Datasheet here for all additional information.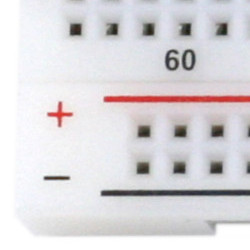 Red & Black Power Rails
The power rails are now the standard red and black for positive and negative.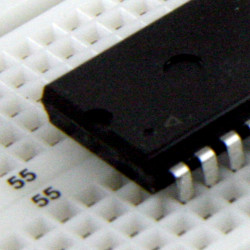 High-quality Contacts
Square post connectors can be inserted and removed reliably. The beryllium-copper contact allow is specially designed for maximum springiness. It allows both thin 26 AWG wire and large square post headers to be used. The contacts are machine tested for 50,000 insertions to confirm manufacturing quality (human insertions may vary).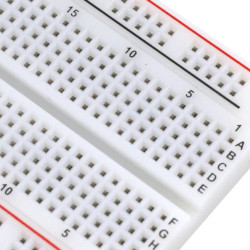 Consistent Grid Reference
Grid reference numbers every 5 columns and grid reference lettering in all caps, consistent across our BreadBoard line to provide clear and easy to read hole legends. All letters and numbers are horizontal for easy reading.
Product Videos
Custom Field
Product Reviews